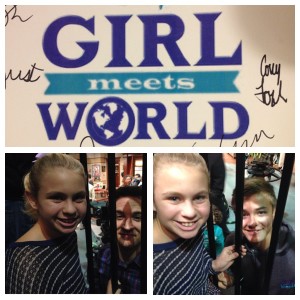 Lately I've been delving into tween TV because I have a tween AND I'm used to writing for this audience.  One issue I have with today's slate of tween TV is the lack of content with genuine family characters.  Don't get me wrong… I enjoy "Dog With a Blog" and think the actors are charming, funny and believable as a family.  But we recently went to a taping of "Girl Meets World" which is a new show based on an old model and I became excited about the possibility that one of Disney's shows might dig into family politics and real, serious issues…just a little?
Cut to Michael Jacobs, Executive Producer of the original "Boy Meets World" series that ran on ABC from 1993-2000.  Jacobs gathered Cory and Topanga back together to create some television magic that maybe only Mickey could make happen?  The series first season is already green lit for 21 episodes!
Admittedly I did not know much about "Boy Meets World" because I was living in London at the time it was for America's tween set at the time to devour. But I knew enough. It was a heartfelt show with palpable characters that interacted, as a cast should – with meaning and depth.  I remember hearing about the famous "Topanga Lawrence" played by Danielle Fishel and her up and down relationship with "Cory Matthews" played by Ben Savage. I also remember that Americans were very taken with this show and it evident when we went to a recent taping of "Girl Meets World" and saw the number of fans who showed up to pay homage to these two key players now in a solid marriage!
In "Girl Meets World" Topanga and Cory are now happily married with children.  Newcomer, August Maturo, plays 6 yr. old brother, "Auggie Matthews" to the new tween focus of the show, Rowan Blanchard, who plays conflicted but confident "Riley Matthews."  This family unit works.  The writing works.  The connections work.  And, best of all, there isn't the typical Disney Channel laugh-a-line formula.  This is more about how families work together to solve issues and deeply care for one another.  Additionally, as they did with Savage's Cory, Riley has a bestie with issues.  Sabrina Carpenter plays feisty and rebellious "Maya Hart" – a ying to Riley's yang. (Kudos to the wardrobe department for putting Maya and Riley in some hip and fresh threads.)  These actresses play smoothly confident off one another. It's truly a match that we cannot wait to see grow stronger with each episode.
A few additional players worth mentioning are Corey Fogelmanis who is a lovable geek treasure as "Shamus Farkle." Farkle has all the trappings of a modern day Urkel and he's the Geekyagottalove!   Peyton Meyer plays "Tristan Friar"  (that rhymes!) – possible love interest for Riley but also a nice boy with a deep conscious.  A voice of reason and serenity, at least in the episode that we saw.  (Episode #6 "Girl Meets Father)
The series premiere is set for summer 2014 on Disney Channel and the anticipation with fans is swiftly growing.  At the taping, all the actors were quite happy with the audience reaction and eagerly signed autographs from below on stage.  A special mention about Ben Savage. He obviously knows his fans and supports them right back.  Several times he came over, talked to audience, pulled one fan down to talk to him and at the end of the show, made sure to sign autographs and take pictures.  Gotta love him and he's cute to boot!
Great job cast, crew and Disney Channel. You've got a hit on your hands.