Mattel Creations
BARBIE Dreamhouse Adventures
WRITER for the 10x  promotional character bio spots produced by AMMO Creative for the new Barbie series from Mattel, "Barbie Dreamhouse Adventures" on Netflix NOW!
Mattel Creations
Polly Pocket – DHX Co-Production
CREATIVE MANAGER, CURRENT SERIES  working closely on and with creative lense on behalf of Mattel Creations, in collaboration with DHX Media.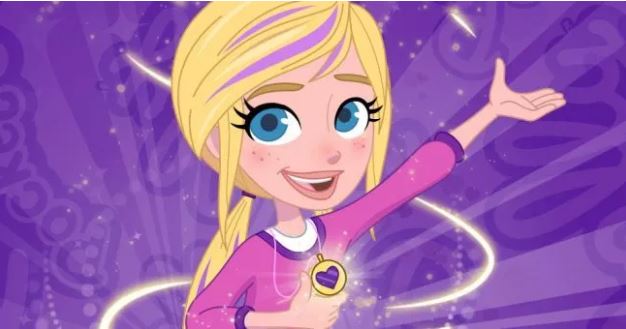 Promotional SHOWREEL
This compilation emcompasses both pieces while on staff and on freelance at various studios. ENJOY!
DISNEY
As a Senior Writer/Producer for On-Air Promotions, I was assigned projects, per show, to promote.  For some I would write original songs, lyrics and melodies!
I've worked on the launches of several channels at Disney including Toon Disney and Playhouse Disney.  Additionally, I created and produced a series of Toon Disney Movie Wraps (live action bumpers) for over 20 movies.
Toon Disney Show: TD Movie Wraps (Writer/Producer/Director)
(As Staff Writer/Producer + Original Song)
Disney work includes:
*Toon Disney Launch
*Playhouse Disney Launch
*Behind the Scenes interviews and interstitials

Playhouse Disney
Launch Promo
(As Staff Writer/Producer + Original Song)
Toon Disney
"Toonology" Interstitial series
(As Staff Writer/Producer )
Toon Disney
"Toon Face"
(As Staff Writer/Producer + Original Song)
Toon Disney
"The No Pants Dance"

(As Staff Writer/Producer -

Song composition & Editing)
Disney XD
Show: Sonic Underground
(as Freelance Writer/Producer)
Vortexx on the CW
Client: SABAN
Show: Sonic X
(freelance Writer/Producer)
Working as a Writer/Producer for On-Air Promotion for Saban's network television on the CW  was a great experience. We took existing programming and packaged/targeted them to a boy-block of viewers for the last show segment of  Saturday morning cartoons for a network viewing.  Sadly Saban cancelled this block and sold again.
Not only did we create a five hour block of programming but we also created a website with programming information, schedule and games/trivia that supported the set.
Vortexx on the CW
Client: SABAN
Show: Yu Gi Oh!
(Freelance Writer/Producer)
Vortexx on the CW
Client: SABAN
Movie: Spike's Reindeer Rescue
(Freelance Writer/Producer)