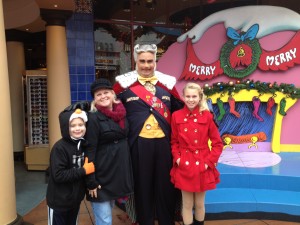 Universal Studios GRINCHMAS
We had the pleasure of visiting Universal Studios this holiday season when it was Grinchmas time!  There were Whos from Whoville dancing and prancing about with lovely outfits and pleasant smiles. The Grinch was in a great mood!  There were all the usual Universal suspects – the Mummy, Frankenstein, Scooby Doo and Shaggy, Marilyn Monroe, Lucille Ball, and of course… MINIONS!
Even the tour had a few holiday surprises… the Whos sang us a song!  There was Christmas cheer everywhere and even though it was raining, the staff was friendly and the attractions great.