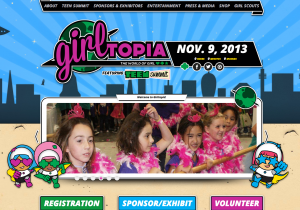 November 9, 2013
GIRLTOPIA 2013 Sponsored by Girl Scouts of Greater Los Angeles, CA
We arrived at GIRLTOPIA having never been before. We were immediately impressed with the amount of eager Girl Scouts waiting to embark into the LA Convention Center for a rockin' pink party of fun! Over 6000 Girl Scouts from Los Angeles and surrounding California cities were expected in attendance and from our perspective? They were THERE!
GIRLTOPIA is the country's largest expo JUST FOR GIRLS. It is filled with interactive activities, exhibits, live entertainment and celebrities. We cruised the aisles, got glitter tatoos from GLIMMER Body Art and ate all the Girl Scout Cookies we would find!
There were booths on Business Smarts where we could learn about spending and saving money, educational series available from Disney Youth Education Series as well as a huge turnout from entertainment celebs who signed autographs and participated in an empowerment panel.
Check out our highlight video…on the HOME page!
CAN'T WAIT TIL NEXT YEAR!