Saturday April 26, 2014 We had the pleasure of attending the Disney Channel presents "The Radio Disney Music Awards" in downtown Los Angeles at the Nokia Theater LA Live. My friend Alexi and I hung out before hand and met up some Disney Channel talent such as Corey Fogelmanis, who plays "Farkle Minkus" in the new Disney Channel series "Girl Meets World." There were some up and coming bands like Forever in Your Mind, Emblem3 and Before you Exit there to walk the carpet along with plenty of young musicians that won awards.
There was a Pre-Show with tents set up from American Girl, Duck Tape and merchandise from the show itself, including the limited addition ARDY
Live and FREE performances by the Vamps, Sabrina Carpenter (Disney's newest series "Maya Hart" from "Girl Meets World") the Radio Disney DJ's and many others outside the theater.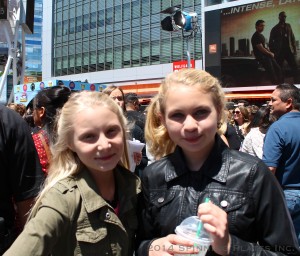 The show itself featured live performances from Zendaya, R5, Austin Mahone, Ariana Grande, Fifth Harmony and Becky G. There were taped segments from Justin Timberlake and Katy Perry who could not make it to the show.
R5's performance included a light display that was generated from the audience's cell phones from a Radio Disney App… it was AMAZING!
2014 Radio Disney Music Awards — Winners List
They're The One – Best Music Group: One Direction
He's The One – Best Male Artist: Justin Timberlake
She's The One – Best Female Artist: Demi Lovato

The Bestest – Song Of The Year: "Come & Get It" – Selena Gomez
XOXO – Best Crush Song: "Still Into You" – Paramore

So FANtastic – Fiercest Fans: Swifties – Taylor Swift
The Buzz – Breakout Artist of the Year: Fifth Harmony
The Freshest – Best New Artist: Becky G
Musical Mashup – Best Musical Collaboration: "Everything Has Changed" – Taylor Swift feat.Ed Sheeran
So Happy – Best Song That Makes You Smile: "Ooh La La" – Britney Spears
#Cool – Radio Disney's Most Talked About Artist: Selena Gomez
Stuck In Our Heads – Catchiest New Song: "The Fox (What Does The Fox Say?)" – Ylvis

That's My Jam – Best Song To Rock Out To With Your BFF: "Me & My Girls" – Fifth Harmony
Soundtraxx – Favorite Song From a Movie Or TV Show: "Let It Go" – Idina Menzel (Frozen)
Move! – Best Song To Dance To: "Birthday" – Selena Gomez
Hit The Road – Favorite Roadtrip Song: "Made In The USA" – Demi Lovato
You've Got Swag! – Artist With The Best Style: Zendaya
The taping on Saturday was edited overnight and aired on Sunday, April 27, 2014 (8:00pm, ET/PT)
We had amazing time at the show and hope to make it there next year!! Here are some more pics: